Drama: Welcome to Waikiki (English title) / Eulachacha Waikiki (Korean title)
Revised romanization: Eulachacha Waikiki
Hangul: 으라차차 와이키키
Director: Lee Chang-Min
Writer: Kim Ki-Ho, Song Ji-Eun, Song Mi-So
Network: JTBC
Episodes: 20
Release Date: February 5 - April 17, 2018
Country: South Korea
Plot Synopsis by AsianWiki: Kang Dong-Goo (Kim Jung-Hyun) dreams of becoming a movie director, but he is cynical due to bad luck. Cheon Joon-Ki (Lee Yi-Kyung) wanted to follow in his father's footsteps and become an actor, but he is now just a minor actor. Bong-Doo-Shik (Son Seung-Won) came to Seoul to become a scenario writer, but things have not been easy for him. These 3 men run the guest house Waikiki in Itaewon, South Korea. Their guest house is facing bankruptcy and then a mysterious baby and single mother appear at Waikiki.
Welcome to Waikiki
is actually the first drama that I completed watching this year. I have been very busy during the first half of this year with other things, so I didn't get to watch anything. I'm not the type to watch dramas all the time, so I didn't mind much. But when my older sister and my best friend kept posting about Welcome to Waikiki on their social medias, I couldn't help but become curious over it. I think the part where the three men found a baby in their guest house was what made me want to watch this drama.
This drama tells about three friends, Dong-Goo, Joon-Ki and Doo-Shik, who were struggling with their jobs and decided to open a guest house to earn extra money. Later in the story, the three of them were joined by three women, Yoon-A, Seo-Jin and Soo-A, which made things more complicated than they already were. I think what made this drama interesting is the uniqueness of each character. None of the characters are flat, they all have strong traits— or should I say, funny and weird?
Extremely
funny and weird. The friendship between the characters were so funny, they could be supportive in one moment, and become savage towards each other in the next second. The baby was a sweet plus too, she's adorable and I've never seen a behaving so well! The quirks of each character was what made this drama stand out.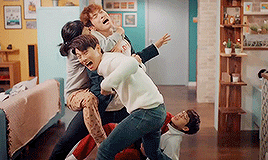 By far, this drama has been the
most hilarious
drama that I have ever seen. And I meant it in the most extreme way possible! You rarely get to watch a drama that can make you laugh out loud throughout the whole 20 episodes, without getting bored or cringing at any the scenes. Welcome to Waikiki has enough comedic touch to it, and with the right amount of drama and romance too. I can tell you, the chemistry of the characters are adorable and hilarious. If you're in need of a good laugh, Welcome to Waikiki is the
absolute best choice
.
Till next time ♡ Love, Aishah Humaira'